Family First Aid

Family First Aid Course - First Aid for Family Emergencies
£24.95 + VAT per trainee
This course is aimed at anyone who requires a course in family first aid. The certificate is valid for 3 years and a recommended annual refresher can be done online.
This course is aimed at the needs of the family. It covers primary and secondary care skills for adults, infants and children. Knowing what to do in an emergency is an excellent life skill to learn and the course covers many subjects that you may come across. If you want an online only course then the First Aid Plus course is ideal.
This course comes with 5.0 hours of CPD, although the time to complete the course online may be less than this. Total course time includes 3 hours and 33 minutes of video training as well as knowledge reviews, final test, remedial help and reviewing downloaded material.
The content of this and all our courses has been independently certified as conforming to universally accepted Continuous Professional Development (CPD) guidelines and come with a Certified CPD Statement as well as a ProTrainings Certificate and for online courses an Evidence Based Learning statement.
Student manual and other free downloads upon purchase
CPD Time Credit Conformation
Evidence Based Training Certificate on completion
Print your wall certificate on completion
Access to the course for 8 months and other refresher and reminder features
100% online or do the online course then a skill session with one of our national evaluators
3-year nationally recognised certificate for £24.95 + VAT
Engaging multimedia video training
Student Downloads Available with Course:
Family First Aid Student Manual V5.0
Workplace Accident Book
Home Emergency Contact Sheet
Work Emergency Contact Sheet
Pet Emergency Contact Sheet and Care
How to register to call EMS by text
Personal Medical Information Sheet
Link to the Community HeartBeat Trust is a national charity focused on provision of life saving defibrillation services to local communities.
Free student first aid program leaflet
EmergencySMS service leaflet
Epilepsy facts and figures leaflet
Pregnant women and CPR Handout V1.0
Adult CPR Flowchart handout
CPR Flowchart handout - Child
CPR Flowchart handout - Child
CPR Flowchart handout - Infant
CPR Flowchart handout - Infant
Epilepsy in Action Leaflet (register on www.epilepsy.org.uk)
Web link to the Joint Epilepsy Council website
Polish Student Manual - Pierwsza Pomoc Podrecznik Studenta V4.0
Asthma UK weblink
Epilepsy and education – information for parents leaflet
Epilepsy Action leaflet
EpiPen Instructions
EpiPen Patient information leaflet
Link to HeadSmart website
Meningitis Now website with many leaflets and resources
Online Card: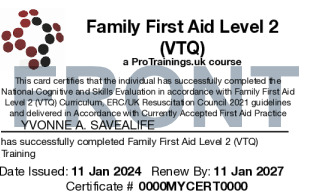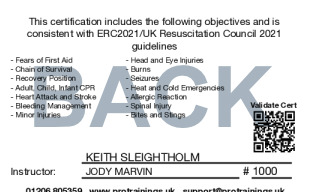 Classroom Certificate: